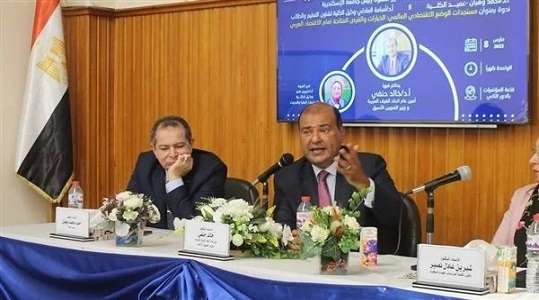 The Secretary General of the Union of Arab Chambers, Dr. Khaled Hanafi, participated in the seminar organized by the Faculty of Economic Studies and Political Science at Alexandria University, entitled: "Developments in the Global Economic Situation: Options and Opportunities for the Arab Economy", with the participation of a group of professors, faculty members, the assisting body, and faculty students from the departments of economics and political science.
Dr. Khaled Hanafi reviewed the latest developments in the global economy and the challenges it faces, especially the contraction of the global real estate market, inflation, political and commercial disputes. It also addressed the elements of recovery, most notably the Fourth Industrial Revolution and sustainable development strategies.
He pointed to the pivotal role played by the Fourth Industrial Revolution and with it digital transformation in economic and social activities and the opportunities and advantages it entails, ranging from vital technologies, the Internet of Things, and big data, to cybersecurity and artificial intelligence.
He stressed "the need to adapt and keep pace with tremendous developments, in addition to developing the skills of students and researchers in order to face the changing needs of the labor market in light of the previous data."
He spoke about the repercussions of global developments on Arab economies, especially in addressing the readiness of governments of Arab countries for artificial intelligence according to the Government Readiness Index for Artificial Intelligence 2022. He also reviewed the opportunities available to the Arab economy, most notably trade liberalization, cross-border cooperation, support for intra-Arab trade, the adoption of more sustainable economic systems, the role of new tax policies in supporting Arab economies, the adoption of social work as a key axis in development, the role of governance and the rule of law in supporting Arab economies, and political stability as a supporter of economic development.
He stressed that all the challenges in the global arena require practical and urgent measures to activate joint Arab economic action, based on a new strategy that simulates the language of the present, stressing the need to arm themselves with technology and digitization.
The Secretary General of the Union spoke at the seminar organized by the Institute of National Planning in cooperation with the Arab Association for Economic Research within the framework of the 2023 cultural season entitled: "A View of Contemporary Concepts of Global Supply Chains: Can They Enhance the Capabilities of the Arab Economy?" at the headquarters of the Institute of National Planning.
In his speech, he reviewed a number of contemporary trends in supply chains and logistics, with a focus on the most important modern theories in the field of supply chains, which will change the shape of future scientific research in this field. It also addressed how contemporary trends in supply chains have affected the nature and quality of jobs in the logistics sector.
He concluded his lecture by presenting a number of ideas on enhancing the resilience of supply chains in the Arab world, and their repercussions on Arab economies.  
Source (Union of Arab Chambers)