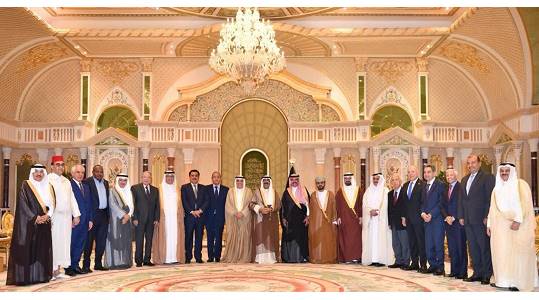 In light of the conditions that the global economy is going through, the Board of Directors of the Union of Arab Chambers, in its 133rd session held in Kuwait City, called for, at the kind invitation of the Kuwait Chamber of Commerce and Industry on November 9, 2022, called the Arab governments:
1- Achieving the four freedoms that enhance Arab economic integration:
· Freedom of movement of individuals: by granting multiple long-term visas to businessmen through the Arab Chambers.
· Freedom of capital transfer and ease of transfers.
· Freedom of movement of goods by removing non-tariff obstacles: unifying specifications and standards and standardizing registration procedures.
· Freedom of movement of services by accelerating the adoption of the Agreement on Liberalization of Trade in Services.
2- Work to establish Arab value and supply chains through Arab hub ports and sea lines, logistic centers, support multimodal transport, and establish an Arab commodity exchange.
3- Expediting the transformation of all agreements and legislation into effective procedures that achieve transparency and governance and make these agreements bear fruit.
4- Facilitating the private sector to play its societal role in developing and supporting education, training, and entrepreneurship to create productive generations that keep pace with developments, with a focus on young men and women entrepreneurs.
5- Encouraging and empowering women's participation in economic activity.
6- Activating the partnership of governments and the private sector in all economic sectors, especially in infrastructure.
7- Activating the role of Arab banks and development funds in supporting investments and contributing to and reconstructing countries that have been exposed to crises.
8- Appreciating the participation of the Kingdom of Saudi Arabia in the Group of Twenty (G20) and the Federation of Saudi Chambers in the B20, representing the Arab private sector.
9- Private sector is proud of Qatar's hosting of the World Cup, which opened up prospects for Arab companies to implement projects and gain expertise.
10- Commitment of states to promote administrative reform to achieve efficiency in services, reduce corruption, achieve justice and flexibility in doing business.
The Council noted that the success of the private sector in performing its duties is the success of Arab governments in achieving sustainable development, prosperity, and people's well-being. The Council of the Union of Arab Chambers expressed its sincere pride and appreciation for the keenness of His Highness the Crown Prince, Sheikh Mishaal Al-Ahmad Al-Jaber Al-Sabah (God Bless him), to meet with the delegation of heads and leaders of Arab chambers and the private sector. The Council commended the warm reception the delegation received from His Highness, which confirms the keenness and sincere and genuine desire on the part of the stakeholders in the Arab countries for the importance of cooperation with the private sector and building a true partnership with it, which would achieve well-being and prosperity for our Arab countries.