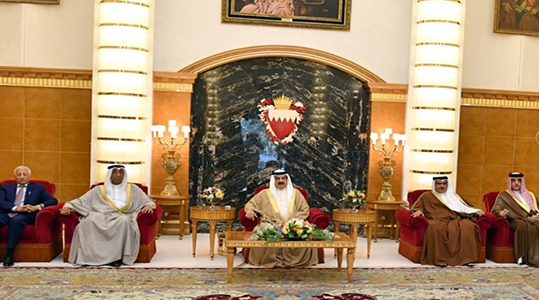 Bahrain's King Hamad bin Isa Al Khalifa, in the presence of His Royal Highness Prince Salman bin Hamad Al Khalifa, Crown Prince and Deputy Supreme Commander of the First Deputy Prime Minister received at Sakhir Palace the participants to the 18th Arab Business and Investors Conference.
The King welcomed everyone, expressing his deep appreciation for the pioneering and responsible role played by the Trade and Industry Chambers & Federations in supporting the trade movement and economic renaissance in our countries, through their active participation in the formulation of policies and decision-making, which ultimately leads to a comprehensive and sustainable development that will benefit the well-being of our societies and peoples.
His Majesty highlighted the focus of the conference held on the land of Bahrain on the topic of the readiness of the business sector to the requirements of the fourth industrial revolution, and the consideration of how to keep pace with these rapid technological developments to develop appropriate plans and solutions, stressing the importance of their role as commercial and industrial sectors in determining the nature and areas of investment and the future of entrepreneurship in the world of digital economy.
He added that the Kingdom of Bahrain is working intensively and strenuously to formulate clear plans for the orderly transformation towards the digital economy and we look at such conferences with great interest to take advantage of the content put forward to achieve a qualitative leap for the economic development in our country, for the benefit of everyone.
King Hamad bin Isa Al Khalifa said: "We in Bahrain are always keen to communicate with citizens and cooperation among us, and we are very interested in cooperation with our brotherly Arab countries and with the world, for the benefit of all of us. The stability of our peoples supports our continued quest for further growth and you have a great role to play in the advancement of our countries and the future of our future generations in various fields, and together we achieve more progress and prosperity.
For their part, the guests of the Kingdom thanked the Bahraini King for the kingdom's hospitality during their visit, praising the successes achieved by the Kingdom in the sectors of economy, trade, industry and entrepreneurship, which made it an attractive environment for investment and investors.