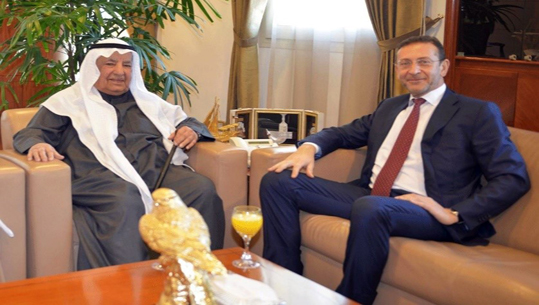 Ali Thanyan Alghanim, the Chairman of the board of directors of Kuwait Chamber of Commerce & Industry, confirmed the chamber's readiness to exploit its potential in order to consolidate the economic relations with Italy.
Alghanim met with Giuseppe Scognamiglio, the Italian Ambassador to Kuwait, who stressed that "the Chamber is ready to introduce the business owners to the economic climate in both countries and to encourage seminars to promote the Italian products." He also added that "the Kuwait Chamber of Commerce and Industry pays great attention to the consolidation of economic relations. They also discussed during the meeting the nature of economic cooperation between Kuwait and Italy and ways to establish investment projects between the two friendly countries."
For his part, Ambassador Scognamiglio stressed "the aim of developing the bilateral relations between the two countries at all levels and exploiting the investment opportunities available in Italy." He also pointed out that "the Embassy is making great efforts to reduce the obstacles facing the Kuwaiti investors and increase the trade exchange movement and delegations visits between the two friendly countries."
Source: (Kuwait Chamber of Commerce and Industry, Edited)