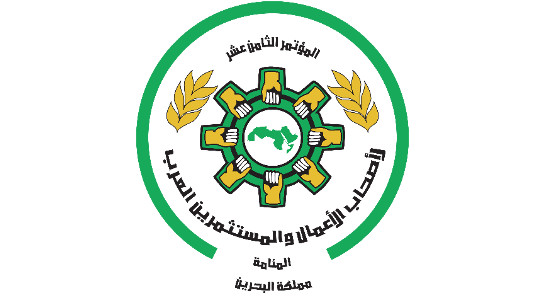 Under the patronage of His Majesty King Hamad bin Issa Al Khalifa, the Union of Arab Chambers, in collaboration with the Bahrain Chamber of Commerce and Industry, the Ministry of Industry, Trade and Tourism of the Kingdom of Bahrain, the General Secretariat of the League of Arab States, The Arab Investment & Export Credit Guarantee Corporation and the UNIDO International Center for Entrepreneurship and Investment in Bahrain, organizes the 18th session of the Conference of Arab Businessmen & Investors in the Capital Manama on 11-13 November 2019 in the Kingdom of Bahrain under the slogan «Investing in the Fourth Industrial Revolution: Entrepreneurship and Innovation in the Digital Economy».
This conference represents an Arab economic and investment gathering to encourage investment in Entrepreneurship and Innovation in the digital revolution in the Arab world and to enhance the cooperation between the Arab countries in this field. It is a key platform that brings together all the Arab parties concerned with investment of senior officials, investment and promotion bodies, entrepreneurs and Arab companies involved in various sectors of digital investment.
For registration, please visit this link:
https://www.abic2019.bh/register
The "Arab Entrepreneurship Rally" Competition will be organized in parallel with the 18th Conference of Arab Businessmen & Investors and the 3rd Global Entrepreneurship & Investment Forum. The competition will be run by the AAST Entrepreneurship Center at the Arab Academy for Science, Technology and Maritime Transport, for those who wish to start their own businesses. It will be held in partnership with UNIDO ITPO, AICEI, Union of Arab Chambers and Bahrain Chamber of Commerce and Industry.
This will grant the University students from many Arab countries to have the opportunity to discuss their business plan with many experts and attend various events.
It is worth noting that, over the past two years, the competition has been attended by some 5,300 individuals between the ages of 18 and 35. More than 370 student ideas have been accepted and have been included in more than 90 educational and training events.
For more information about the Entrepreneurship Rally please visit this link:
http://www.entrepreneurshiprally.com
Update:
Please click the below link to watch the speeches of the conference:
https://www.youtube.com/playlist?list=PLKRSCiUMcbpjVArUUouBsL4TBMnOIkPoV