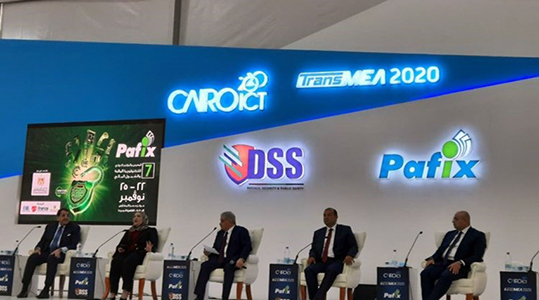 The Secretary-General of the Union of Arab Chambers, Dr. Khaled Hanafy, stressed during his participation in the second session of the "Pavex" conference, which is being held for the seventh year in a row, in parallel with the Cairo International Technology Exhibition and Conference, in its twenty-fourth session, that "the digitization process is greater than being digital or online payments."
Hanafy considered that "digitization is done by linking all information and data together, and the most important thing that is done to achieve digitalization is to contain under one umbrella, which brings us closer to the goal," adding that "the management of supply chains and value chains still needs to do more than that to achieve the link between them."
For her part, Minister of Social Solidarity, Nevin Al-Kabbaj, pointed out that "the ministry launched a stimulus package for defaulters, allowing for exemptions of 90% of the interest of previous debts in Nasser Social Bank in addition to taking all measures initiated by the Central Bank from exempting borrowers from interest for a period of 6 months", pointing out that "there is a difficulty in identifying all aspects of the economy because of the informal economy, hence it is necessary to completely shift to the digital method of financial inclusion to find out all aspects of the economy and connect the poor to the best ways to save."
For his part, the legal advisor of the Central Bank of Egypt, Tamer Dakkak, stated that "the law is witnessing a complete legislative reform system, especially in technology. It started with the Cybercrime Law, followed by the law on the Personal Data Protection Law, specialized in protecting users' data, then came the Electronic Payments Law and the Central Bank Law," which largely covers the legal authority of electronic tools as it begins to accept digital tools, indicating that the new central bank law has triumphed for technology.
It is worth noting that the 24th Cairo ICT Exhibition and Conference was attended by the Egyptian President Abdel Fattah El-Sisi.
Source (7Youm Website, Edited)