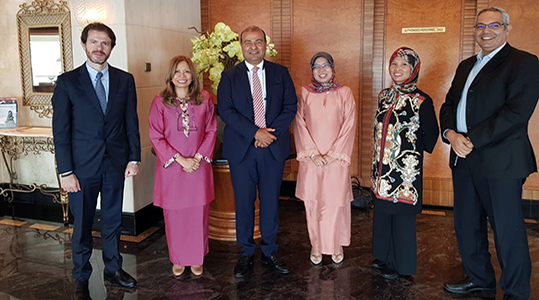 Secretary General of the Union of Arab Chambers, Dr. Khaled Hanafi visited the Kingdom of Malaysia, where he met with the Council of Arab Ambassadors, Malaysian and Arab businessmen in Kuala Lumpur as part of efforts to establish an Arab-Malaysian Chamber, aiming at maximizing economic, trade and investment cooperation between the two Arab and Malaysian sides.
During his visit to Malaysia, Dr. Hanafi visited the new administrative capital of Putra Jaya, as well as the smart city of Saber Jaya.
In this regard, Hanafi noted the tremendous development witnessed by Malaysia, which today ranks among the emerging and developed economies, considering that Malaysia is a strategic economic partner and can be cooperated within many fields, especially in the industrial and digital economy where it has achieved tremendous successes in this field.
He explained that the Arab-Malaysian Chamber intended to be established will have a large in the next phase, saying that "the role of the Chamber will be permanent work with all Arab embassies in Malaysia, which are 16 embassies in addition to all the remaining Arab countries that do not have embassies in Malaysia, this is reflected in the events and meetings that will be organized, where we aim not only to enhance the volume of trade between the Arab countries and Malaysia, but also attract investments from both parties, and of course we aspire today to strengthen our relationship and work to strengthen and develop the economic, trade, investment, and even cultural relationship between Malaysia and all Arab countries. "
"Malaysia and the Arab countries have long-standing trade and economic relations, and since its great economic rise, Malaysia has been the target of many Arab investments, whether at the corporate, government or business level," he said.
He explained that "the United Arab Emirates tops the list of Arab countries in terms of trade volume with Malaysia, followed by Saudi Arabia in second place, and then the Arab Republic of Egypt. Oman, which ranks fourth in trade with Malaysia, has made remarkable progress recently in terms of trade. We have witnessed a remarkable increase in trade performance between Oman and Malaysia and a significant trend between the two countries towards enhancing trade and economic relationship between them.
He concluded: "I think and hope that we will have a new horizon and a new way to attract investment from Malaysia to the Arab countries and from the Arab countries to Malaysia, especially with the significant development and technological advantages offered by e-commerce technologies, we hope to see more and more investment flows from the two regions in the coming years, in cooperation with all embassies, bodies, and institutions with whom we work continuously to develop the economic and commercial relationship between Malaysia and the Arab world.