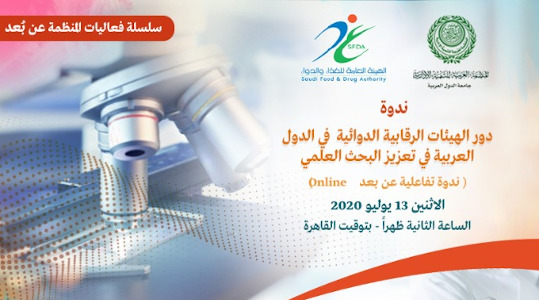 The Arab Administrative Development Organization, a specialized organization affiliated with the League of Arab States, is organizing a virtual seminar entitled: " Role of Arab Regulatory Bodies in Promoting Scientific Research", on Monday, July 13th, at twelve o'clock in the afternoon - Cairo time.
The Arab Administrative Development Organization stated that since the start of the Coronavirus Crisis (COVID-19) at the beginning of this year 2020, supervisory bodies in all countries of the world, including the supervisory bodies in the Arab countries, have sought to take all preventive measures and precautionary measures in coordination with the health and government sectors in order to reduce the spread of the virus.
These bodies have also paid attention to the necessity of the availability of medicines and pharmaceutical preparations, medical devices and products and ensuring that there is sufficient stock in them, in addition to speeding up procedures for approving their registration, manufacture and import requests, and following up the availability of drugs used in the treatment protocols of the Coronavirus.
While many clinical research and studies are being conducted on various drugs, most of which are already used to treat other diseases and have been proven safe, to test its potential for use against the Coronavirus, in addition to making vigorous efforts to develop new vaccines, controversy arises over the use of effectiveness of antivirals, or immune medications, as well as how successful blood plasma injections with antibodies are in treating the disease.
Accordingly, the role of regulatory bodies in protecting public health by ensuring the quality, effectiveness and safety of medicines and vaccines, based on clinical studies, some agencies have agreed to conduct internationally-controlled clinical studies to obtain reliable data regarding the effectiveness and safety of a number of antivirals used that may contribute in treating the virus.
The regulatory bodies are still seeking to encourage research authorities to intensify their efforts to discover or develop what may help to find a cure or vaccine for this virus.
Hence the importance of holding this seminar.
For more information, please visit this link:
https://www.arado.org/ActivityDetails.aspx?ID=535072